Frailea castanea

Fraileas are small cacti native to South America.
Frailea castanea
is found in Rio Grande do Sul, Brazil and neighboring Uruguay. While small and globose like other fraileas, F. castanea is unique with a depressed apex, a dark reddish to chocolate brown body color, and tiny black spines appressed. Most other species of fraileas have green bodies and longer more substantial spination.
An unusual characteristic of fraileas, including
F. castanea
, is their cleistogamous flowers. Cleistogamy is a type of automatic self-pollination of certain plants that can propagate by using non-opening, self-pollinating flowers. However, when
Frailea castanea
is given a sunny, hot location in summer, it will on occasion produce and open its attractive bright yellow flowers, as seen in the photo above. The plant shown above was grown by NCCSS member Bob Stewart and kept outside during the none freezing part of the year.
---
Echinocereus viereckii var. morricallii

For More Photo's Visit Our
Plant
Gallery
Echinocereus viereckii var. morricallii
is seldom seen in C&S collections, which is a shame because it is easy to grow has a really nice flower display. It is native to the Mexican states of Tamaulipas and Nuevo Leon where it is found on wooded hillsides.
The plant shown above was seed grown and is approximately seven years old. It is planted in a gritty, well-drained potting mix and grown in full sun. From mid spring through early autumn it is watered thoroughly once a week. During the winter it is kept dry and cool. One of the really nice characteristics about variety morricallii is that it is almost spineless, which makes it very easy to handle when repotting.
---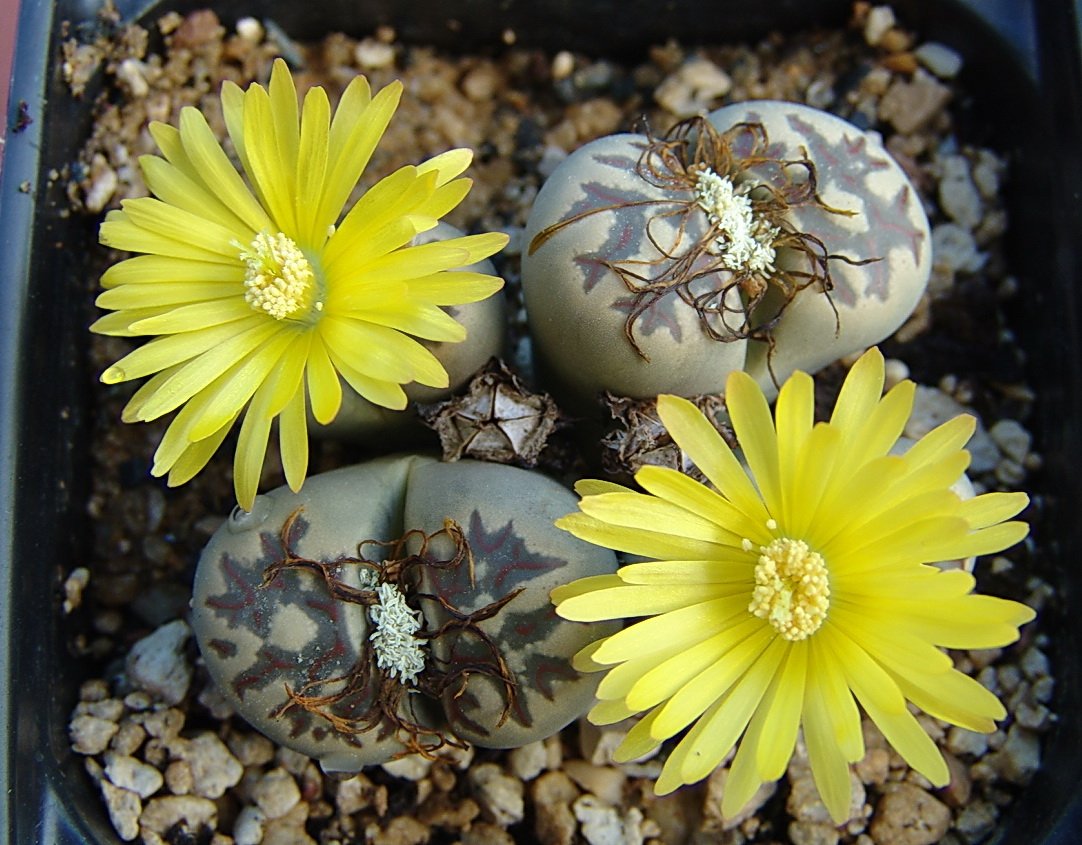 Lithops dorotheae

Autumn is the time of year when most lithops flower. They are in essence, short-day plants, much like chrysanthemums. Some species flower as early as late August and one species, Lithops optica and its much sought after form, L. optica f. rubra, don't flower until mid December. Each flower last about 4 to 5 days and there is no detectible fragrance. The most common reasons for a lithops plant not to flower is that they are not mature (too young) or they have not received enough sun during the preceding spring and summer.
The program of the May 2017 meeting will be
Ben's cacti and other succulents collection, his new greenhouse, and his trip to Palm Springs California.

Presented by NCCSS member Ben Burkhardt


One of the regular programs we present in the National Capital Cactus and Succulent Society is a look at what's new and interesting with our members. This month Ben Burkhardt will discuss some of the favorite plants in his collection, his new greenhouse, and a recent trip he made to Palm Springs, California. Ben's a great speaker and this will be an interesting look at growing succulent plants in Washington, D.C. and seeing succulent plants in the desert city of Palm Springs, Ca.


I
f you would like to attend any of our meetings or have questions about our society, please contact
Lee Miller
leejmiller@verizon.net
or
Bob Stewart
stewart723@gmail.com
for details.
---
The National Capital Cactus and Succulent Society

The NCCSS is a group of individuals sharing an interest in the collecting and growing of cacti and other types of succulent plants. We meet once a month from September through June. In August we hold an annual plant show and sale at Brookside Gardens in Wheaton, Maryland. Our Regular Monthly Meetings are held at St. Anselm's Abbey School at 14th & South Dakota Ave. N.E. Washington, DC. Our meeting begin at 10:30 a.m. and end at Noon. If you live in the Washington, D.C. area and are interested in succulent plants, why not visit one of our meetings and share your interest with others who also love these weird and fascinating plants.


---
The National Cactus and Succulent Society is now on Facebook!

https://www.facebook.com/pages/National-Capital-Cactus-and-Succulent-Society/223669454422179
---
The National Capital Cactus and Succulent Society will hold its annual plant sale at Meadowlark Botanical Gardens on Saturday, June 10, 2017 from 10:00 a.m until 4:00 p.m.
Once again members of the National Capital Cactus and Succulent Society are busy propagating and growing plants for the annual plant sale at Meadowlark Botanical Gardens in Vienna, Virginia. Hundreds of common and not so common cactus and other succulent plants will be on sale for for rock bottom prices. One of the problems all long time succulent plant growers share is lack of space for new plants. Our need to reduce the number of plants in our collections give others the opportunity to buy some great plants at low prices.
In addition to the chance to take advantage of some great plant bargins, members of out society will be on hand to talk about growing cacti and other succulents in the Washington, D.C., Virginia, and Maryland area, and answer any questions you might have. And, you'll be visiting Meadowlark Botanical Gardens, home of 95 acres of ornamental display gardens and unique native plant collections. Meadowlark Botanical Gardens are located at
9750 Meadowlark Gardens Court, Vienna, Virginia. Telephone: 703-255-3631
Membership & Dues:
To join the National Capital Cactus and Succulent Society contact Lee Miller leejmiller@verizon.net or Bob Stewart stewart723@gmail.com. If you would like a sample of our most recent newsletter, The Eastern Spine, contact newsletter editor Bob Stewart. Annual membership dues are $10.00
---
Would You Like To Know More About Aeoniums?
Society member Donna Kuroda presented a program on Aeoniums at our October 2011 meeting and she has agreed to allow you access to that program through a PDF presentation. Just click here on the word
AEONIUM
to call up the program. This is a large file and make take a minute or two to load, depending on the speed of your computer.
---